Senior of the Month: April
Congratulations to Abigail Lotz on receiving the April Senior of the Month! Here are some questions we asked her:


What will you miss most about high school?
-I will miss football Fridays, pep rallies, the teachers, the tight-knit community feel, the overwhelming support from the community, all of the friendships I've made, and last but not least, my 2020 class as we've been through so much all together and have gotten so close with each other these past four years.
What is your favorite high school memory?
-My favorite high school memory is every single football, basketball, baseball, softball, track meet, junior class play, band show, choir performance, trebuchet match, etc. that I went to and got to spend numerous hours cheering on my classmates and friends with my peers, making memories that'll last a lifetime.
What are your future plans?
- My future plans are to attend the University of Cincinnati in the fall semester of 2020 to major in biomedical engineering.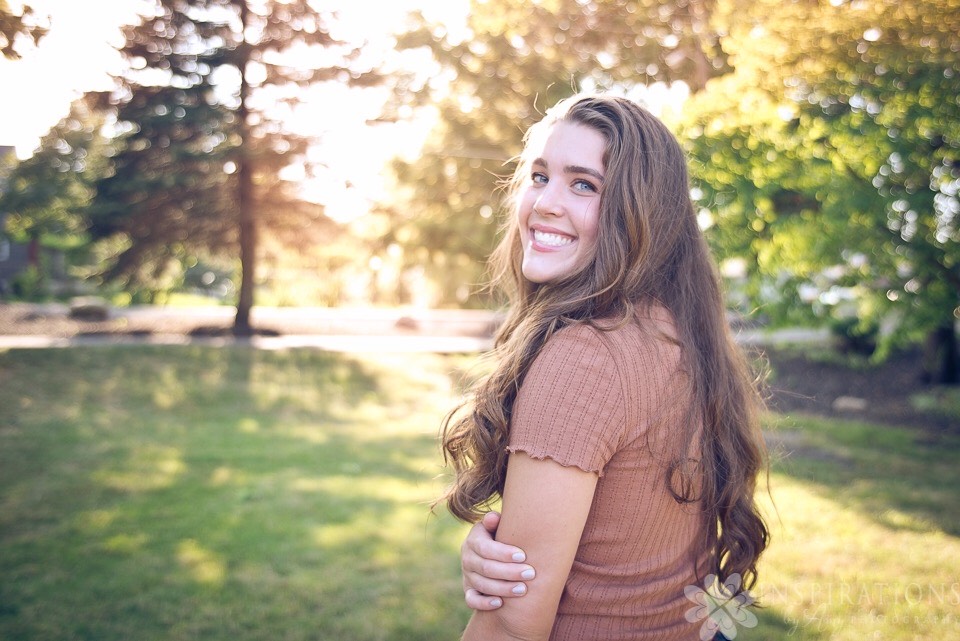 Who is your role model?
- My role models are my parents. My dad first off is the single most hardworking man I've ever met. His work ethic is contagious and always pushes you to do your best. He always said "If you want something done right do it yourself, do something right the first time, and if you do something you love you'll never have to work a day in your life." My mom is the most selfless person when it comes to her family. She always put her kids' needs before hers and has always shown us we can do whatever we put our minds to. Her compassion in life has shown me that emotions aren't a burden but a strength, and expressing them shows grace and maturity and makes a dull life burst with color. I want to thank both my parents for instilling these qualities within me. It has pushed me to be where I am in life and will take me far in the future. These two are my angels and God surely knew what he was doing, giving me the biggest blessing I could ever imagine in having them as my parents.
What is your biggest fear?
-My biggest all time fear is home invasions, swimming in the ocean (although I LOVE the beach), and bugs.
What are some of your hobbies?
-My hobbies include: singing, dancing, watching sunsets and sunrises, playing sports, board games, trips to Walmart, stargazing, car rides, playing video games, bonfires, hanging with my friends, thrifting, sewing, and skateboarding.
What is your long term goal?
-My long term goal would be to become a biomedical engineer that creates, designs, and develops prosthetics for pediatric kids and to pursue my own center for the purpose of rehabilitating amputees.
Here is what the staff has to say about Abigail:
"Abbi is such a hard-working student! She perseveres through any obstacle and has a talent for problem-solving. She is confident and asks questions when she has them. She is fun, caring, kind, and will be highly successful in her bright future. I am so proud of Abbi!"
"Abbi is a selfless young lady who is willing to help anyone. She continually strives to be the best she can be inside and outside the classroom. Abbi is the epitome of school spirit. She regularly supported her classmates at various sporting and musical events. It has been a pleasure teaching her and she will truly be missed! Best wishes Abbi!"
"Abbi's positive attitude, kind demeanor, and work ethic are the first things that come to mind when asked about her. Abbi is the type of kid that every teacher loves to have in class because she can provide an uplifting presence for those around her. She is always smiling and offering kind feedback to her peers, and she serves as a great role model for younger students. Abbi also has a great sense of humor, which she can sprinkle in at the right time, but she also knows how to do it in a way that is respectful and not disruptive. These are the qualities of a great leader, which is how I see Abbi."
"Abbi is one of the most hard-working, dependable, responsible and caring students I know both in and outside of the classroom. She Is also very gifted in asking questions to further her understanding of the material taught in class. Abbi has been one of my go-to kids for the past 2 years in both the science lab setting and as a Loud Crowd leader. In the lab, I could depend on Abbi to try new labs/equipment so she could test out the flow of the experiment and help me iron out all the hiccups that students will run into. In Loud Crowd, she has designed all the t-shirts for both Loud Crowd and Physics this year. She also played a big part in the painting of the mural in the cafeteria this summer. Congratulations Abbi!!!"