Learn More About the Lesser Known Staff at Arlington!
There are dozens of behind-the-scenes people who diligently work to make our school as inviting and safe as it is. From the wonderful women who fill our bellies to the hard-workers who line the field and keep our facilities clean, they're people we couldn't attend school without. In an attempt to shine a spotlight on these amazing people, media writing will be writing a weekly article about a member of the staff. We invite you to read and learn more about these amazing staff members!

Our second star employee is-Patty Orwick!
We've asked Patty some hard-hitting questions to learn more about her:
Name: Patty Orwick

How long have you worked at this school: This is my 8th yr.
Something you wish the students at the school knew about you, your job, or just life in general: I graduated from AHS also and worked for 22yrs in banking before working at the school. And that I have a name other than "lunch lady".

What made you choose this job: I wanted to spend more time with my kids.
What's your favorite thing to do during work: I like that every day is different and I get to know all the kids.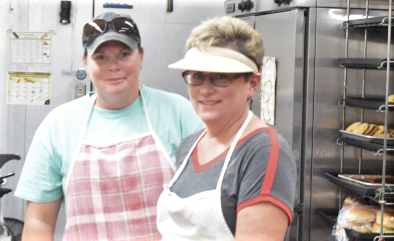 (
Pictured: Patty Orwick, right)
What your least favorite thing to do during work: Wait on rude kids! Maybe cleanup at the end of the day.

[Lunch workers only] What's your favorite meal that you prepare for the school lunches: I like making almost everything except fish.

What's your favorite thing to do during your day off: Spend time with family, gardening or just being outside.

Where is the most interesting place you've been: Probably California, New York, and Disney

What are some small things that make your day better: Polite kids, joking around with co-workers.
We'd like to thank Patty and all the others who help our school run smoothly. Come back next week to learn more about the next employee we interview!