Teacher of the Month: May
By: Anna Edmiston
In an effort to give teachers the rec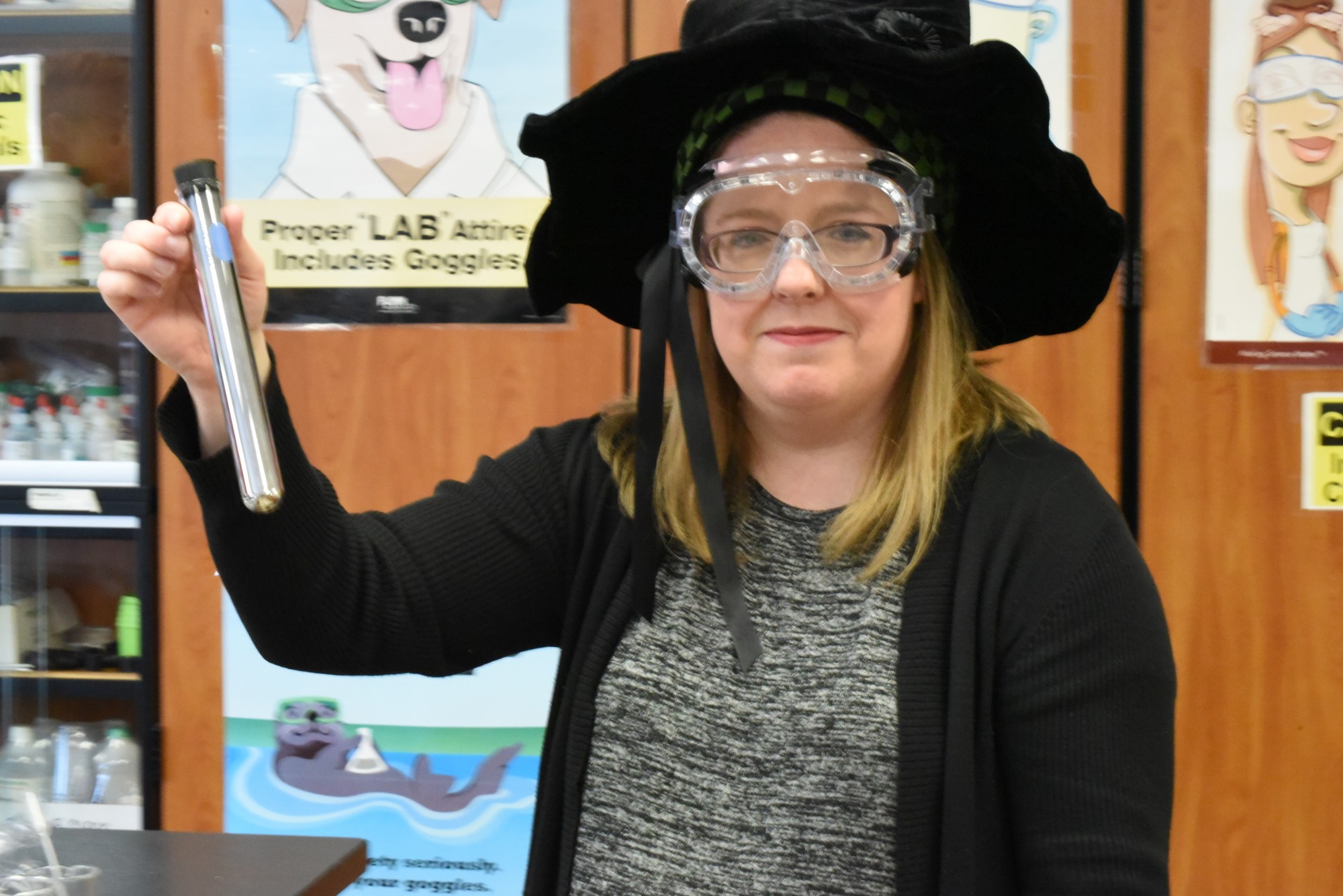 ognition they deserve, high-school History teacher, Mr. Beck wanted to implement a new program that would allow for this. Beginning this year, along with the Senior of the Month, Arlington Local School is introducing Teacher of the Month. In the same way that seniors are nominated by teachers and then voted by teachers, this process is extremely similar. The only difference is that when teachers nominate their Teacher of the Month, they are to give a written reason why. Then the faculty in its entirety will vote based on that. This is a way for teachers to recognize each other, knowing best how hard that they work for their students every day.
The final teacher of the month for this school year is….. Mrs. Cortez!
What made you decide to be a teacher?
I use to charge people in college $35/hour for tutoring services in Chemistry while I was a student at BGSU and my clients had great results while I was making quite a bit of money.
When did you experience the first moment where you feel you genuinely felt like you had a positive impact on a student?
I had a student that I tutored come to me with an F on his first exam, and I helped him get a C on his 2nd exam, and an A on his third. This was a big accomplishment for both of us, and I believe was the first time I saw myself as a teacher.
What has been your most favorite lesson plan you've done?
Unknown lab in Chemistry. Students spend 6-8 weeks immersed in a full-on research approach to running multiple qualitative tests on a known solution of cations, then they are presented with their own unknown sample that they have to fully separate and identify each of their own cations.
Is there a book that has been influential in your life? If so, which one is it and why?
The Last Lecture by Randy Pausch. It is about a computer science professor at Carnegie Mellon giving his last lecture as a teacher since being diagnosed with terminal cancer. The lecture was called "Really Achieving Your Childhood Dreams" and it wasn't about dying. It was about the importance of overcoming the obstacles that life gives us, of enabling the dreams of others and seizing every moment.
How do you like to spend your summers away from school?
I usually spend my summers taking classes that give me better ideas on how to do things in the lab or classroom. Last year I took a Chemistry course at Miami University, this summer I'm taking a course at BGSU that focuses on the ACT and STEM-related topics with TI Instruments. I spend a great deal of time getting Loud Crowd stuff ready for football season and this summer I will be taking on the task of Coaching Cheerleading. I also enjoy spending time with my kids and fishing up in Michigan with my family.
What is something that you would like to bring to Arlington before retirement?
I would like to see Arlington get a new school before I retire:)
What is your favorite cafeteria lunch?
Pizza Melt!!!
What is one thing that you want your students to remember about you? A quote? A lesson? A mindset?
I want them to remember that sometimes things are going to be hard no matter how much you prepare for them. Failure sometimes is the only path to Success....and when one of those moments happen I want them to hear my voice in the back of their head saying, "And may the odds be ever in your favor" - Hunger Games
Did you have a teacher that you look up to as a mentor or a goal? If so, who and why?
Mrs. Wellman - She was my Business teacher in high school. Yes, that's right I thought I was going to go into Business!! She was an inspiration to all of her students, she had a way of making each of us feel important and she was always willing to help me even with Algebra II:)
What Fellow Teachers Have to Say:
Mrs. Cortez is a tremendous teacher and colleague. She is driven to see her students succeed and gives them every opportunity to be successful. As a veteran teacher she is not afraid to try "new" things and constantly looks for ways to push her teaching forward, focusing on innovative ideas, methods and technology.
Kim is an ever evolving teacher. She is not afraid to try new and innovative lessons which will challenge her students. Her students respect and adore her! Congratulations Kim!
She always has the students best interest at heart. No matter how much mess or prep it takes, she does things she knows they'll enjoy!
CONGRATULATIONS, MRS. CORTEZ!