Teacher of the Month: April
By: Anna Edm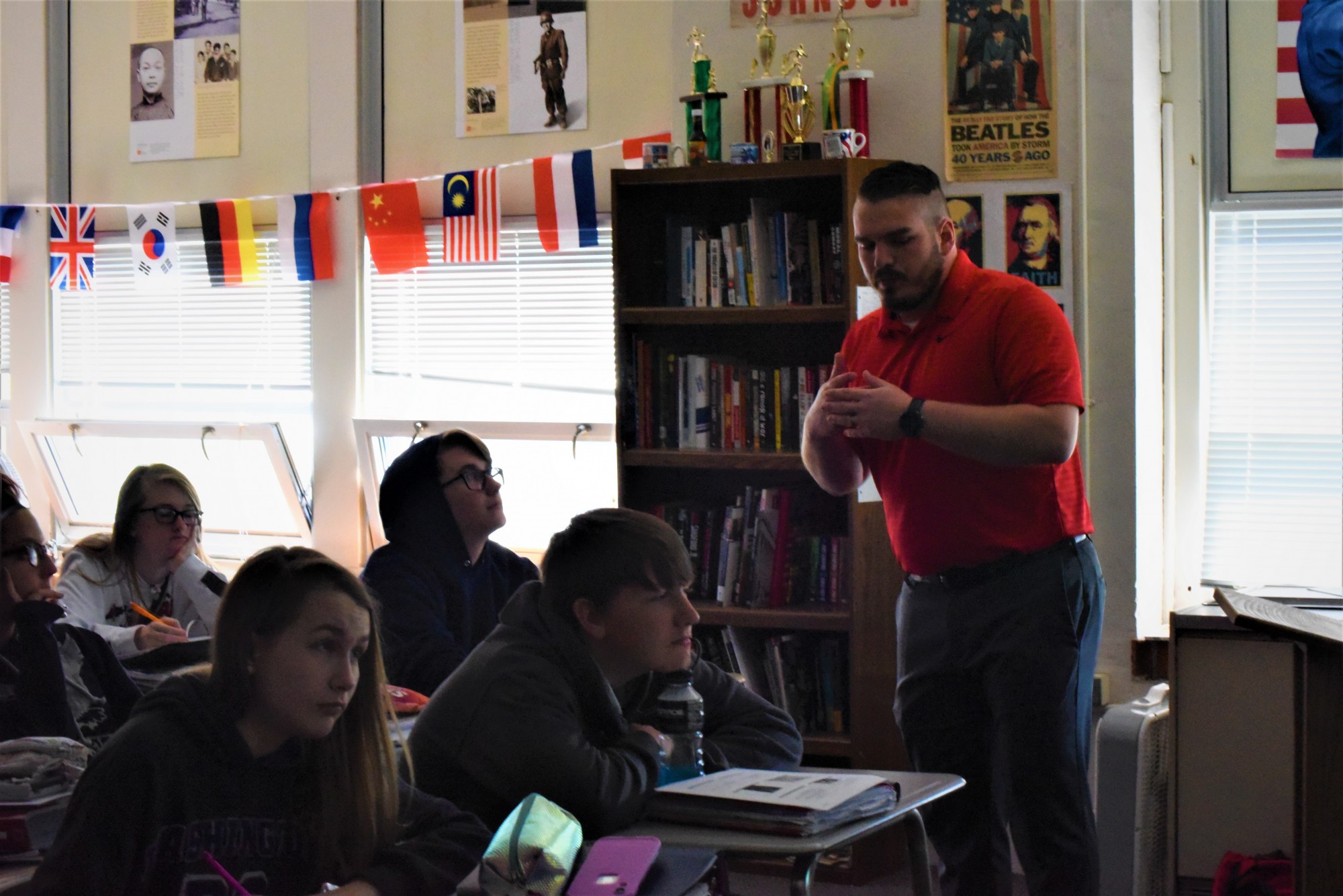 iston
In an effort to give teachers the recognition they deserve, high-school History teacher, Mr. Beck wanted to implement a new program that would allow for this. Beginning this year, along with the Senior of the Month, Arlington Local School is introducing Teacher of the Month. In the same way that seniors are nominated by teachers and then voted by teachers, this process is extremely similar. The only difference is that when teachers nominate their Teacher of the Month, they are to give a written reason why. Then the faculty in its entirety will vote based on that. This is a way for teachers to recognize each other, knowing best how hard that they work for their students every day.
For the month of April, the Teacher of the Month is our very own…. MR. BECK!
1. What made you decide to be a teacher?
I knew I wanted to become a teacher because it allowed me to be a positive role model to students. I had a few teachers that were solid teachers and role models that I looked up to and I wanted to be that positive resource to students.
2. When did you experience the first moment where you feel you genuinely felt like you had a positive impact on a student?
I've had a few throughout the years that I have experienced. A couple of those experiences are through students writing emails/letters thanking me for something positive that I've helped them with (career choice, not giving up on them, etc.) Those messages mean a lot to me and I have a folder that I keep of all of those positive experiences so if things are tough, I'm able to look at all of the impacts that I've made on students.
3. What has been your most favorite lesson plan you've done?
My favorite lesson plan is my World War 1 simulation where students have to act out the same things that the 6 major countries did during WW1. I've heard it's very similar to the game of Risk. I enjoy this lesson plan so much due to the student involvement, kids are negotiating, planning, discussing, forming opinions, etc. due to their participation. It's always fun to see the kids have fun with it while still learning about the war. Then I'm able to refer back to it once we begin studying it more in depth.
4. Is there a book that has been influential in your life? If so, which one is it and why?
A lot of books that I've read really only relate to classes that I teach, so I'll give an influential quote to my life. "By doing whatever, one becomes whoever" - Remi Gaillard.
5. How do you like to spend your summers away from school?
I coach soccer for a local high school in the area. So you can find me either playing, coaching, or reffing soccer throughout the summer. I also have a 2 year old at home and we recently moved to a new house that has a great play set in the backyard, so I'm looking forward to playing with Kearstin on the new play set. Hopefully there is no weight limit on it....
6. What is something that you would like to bring to Arlington before retirement?
School spirit. I'd love for the kids to bring a love for this school within the community. Sometimes it's difficult to accomplish because the students don't want to be "that person" that stands and cheers or stands up for positive things within the school. Hopefully the students can bleed black and red someday.
7. What is your favorite cafeteria lunch?
Chicken nuggets, mashed potatoes with gravy, buttered roll, and peaches. I always joke with Mrs. Gault that it'd be a 2-lunch-day if I was a little younger.
8. What is one thing that you want your students to remember about you? A quote? A lesson? A mindset?
That I care. I care about them, this school, our staff, etc.
9. Did you have a teacher that you look up to as a mentor or a goal? If so, who and why?
Mr. Hayfield was my high school soccer coach and history teacher. I had the opportunity to also be his assistant soccer coach before I took over the head position. He showed me a love for critical thinking, positivity, soccer, and history. Without his teaching style and drive (also the jokes that I've taken), I would not professionally be who I am. Also, I'd like to bring up Ms. Cramer, my English teacher. Without her words of encouragement and guidance, I would probably would not have gone to college. Without these 2 influential teachers, I'd be on a completely different path.
What Fellow Teachers Have to Say:
Dylan is an energetic and engaging teacher. He is also an innovator, who is always looking for new ways to provide students with unique educational opportunities. Arlington's students are lucky to have Mr. Beck as a teacher and advocate for their continued success.
Mr. Beck has done a great job of coming up with creative activities this year. His staff vs. students quiz bowl was a great success and everyone involved enjoyed it. He has put in a lot of time, work, and effort in our annual career day. This day gives students the opportunity to get a sampling of the variety of careers that are available to them once they graduate. Everything he does has the students best interest in mind. Nice job Mr. Beck!
Dylan has done a great job with leading Junior class play and recycling club, and taking initiative to start teacher of the month.
CONGRATULATIONS, MR. BECK!