FFA
Arlington FFA Chapter
For articles, pictures, and the Chapter Calendar, follow the link below
FFA News
By Historian Caylin Alexander
Annual FFA Banquet
On April 29th the Arlington FFA held their end of the year Banquet.The members and guests enjoyed a meal catered by Greenbriar Catering.
CDE RECOGNITION
Ag Sales: Landon Smith, Kendra Parke, Paige Hartman, and Kylie Jolliff
Food Science & Technology: Caylin Alexander, Shelby Kain
Rural Soil Judging: Kylie Jolliff, Caylin Alexander, and Ivy Billerman
Urban Soil Judging: Sean Billerman, Drew Fox, Paige Hartman, and Ian Boyd
Wildlife Management: Caylin Alexander, Isaiah Boyd, Ivy Billerman, Arrissa Swails
MEMBER AWARDS
Greenhand Degree: Caylin Alexander, Ivy Billerman, and Kylie Jolliff
Chapter Degree: Shelby Kain and Jacob Orwick
State Degree: Jack Bateson
Star Greenhand: Kylie Jolliff
Star Chapter:Shelby Kain
Star Placement: Paige Hartman
StarAgri-Business: Kendra Parke
Ag Credit 110% Award:Paige Hartman
Dekalb Award: Kendra Parke
Top Fruit Salespeople: Kendra Parke, Jacob Orwick, and Jack Bateson
Top Chicken BBQ Salespeople: Jacob Orwick, Kylie Jolliff, and Arrissa Swails. Chapter Scholar Award: Caylin Alexander, Jack Bateson, Ivy Billerman, Sean Billerman, Caleb Foltz, Paige Hartman, Kylie Jolliff, Shelby Kain, Wes Launder, Kendra Parke, Landon Smith, and Arrissa Swails
Chapter Leadership Award: Isaiah Boyd, Shelby Kain, Ivy Billerman, Caylin Alexander, and Jacob Orwick
Chapter Community Service Award : Kylie Jolliff, Shelby Kain, Landon Smith, and Arrissa Swails
SPECIAL FEATURES
Keynote Speaker: Jen Wilson-Oechsle, a former Arlington FFA member, and former State FFA Officer.
The FFA Alumni President, Jeremy Deter, presented four scholarships to Karmen Kain, Kendra Parke, Arrissa Swails, and Paige Hartman. They also awarded prize monies to Jack Bateson, Kendra Parke, Arrissa Swails, and Paige Hartman for earning their State Degrees.
COMMUNITY AWARDS
Community Appreciation Awards: Jeremy Deter, Roger & Amy Bower, Gary Wilson, Matt Johnson, Bonnie Begg, Laurie Butler, Molly Neise, Hannah Johnson, Danielle Reinhart, and Nate Sorg.
Honorary Chapter Degree: Andria Haley and Bailey Parke.
SENIOR RECOGNITION
Jack Bateson, Sean Billerman, Isaiah Boyd, Drew Fox, Paige Hartman, Kendra Parke, and Arrissa Swails.
2021-2022 OFFICER INSTALLATION President Landon Smith, Vice President Jacob Orwick, Secretary Kylie Jolliff, Treasurer Landon Smith, Reporter Ivy Billerman, Historian Caylin Alexander, and Student Advisor Kylie Jolliff.
State Degree Winners
The State Degree is the highest award the state can offer. To earn a state degree you must earn and productively invest at least 1,000 dollars, or have worked at least 300 hours in an SAE project. Jack Bateson managed a custom hay baling business, and was awarded a state degree at the virtual state convention. The state degree recipients from 2020, who did not have the opportunity to be publicly recognized due to COVID-19 were Paige Hartman, Ivy Kidd, Kendra Parke, and Arrissa Swails.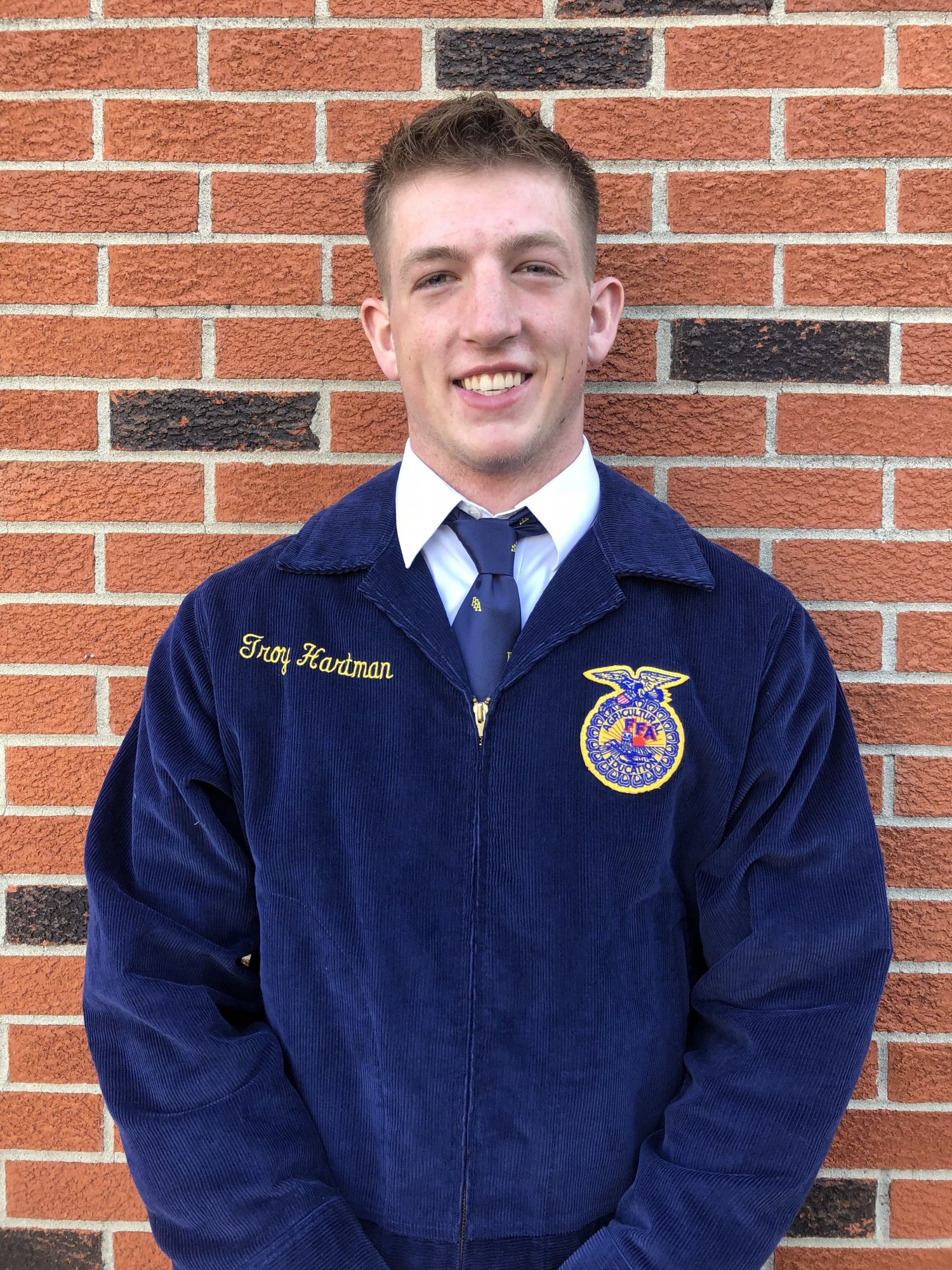 American Degree Winner
The American Degree is the highest award that can be offered by the National FFA Organization. To earn an American degree you must have been an active member for the past 3 years and have graduated from high school for a year. You must also earn at least $10,000 and productively invest $7,500 in your projects. Applicants must also have participated in at least 50 hours of community service. In October one of our members was honored at the virtual National Convention. Courtney Fox has been awarded the American Degree.
2020-2021 FFA Members
Front Row L-R - Mrs. Jones, Landon Smith, Kylie Jolliff, Ivy Billerman, Caylin Alexander, Jacob Orwick
2nd Row L-R - Shelby Kain, Kendra Parke, Arrissa Swails, Paige Hartman
3rd Row L-R - Makenna Grilliot, Isaiah Boyd, Caleb Foltz, Ian Boyd, Kylie Beatty, James Ayers
Back Row L-R - Wesley Launder, Marcus Webb, Ian Kleinhen, Jack Bateson, Sean Billerman, Drew Fox Not Pictured: Jenna Deuble, Dominick Hudson
2021-2022 Officer Team
President/Treasurer: Landon Smith
Vice President: Jacob Orwick
Secretary/Student Advisor: Kylie Jolliff
Reporter: Ivy Billerman
Historian: Caylin Alexander
November 2020 Update:
Courtney Fox Earns Top Honor
Each year, the National FFA Organization honors FFA members who show the utmost dedication to the organization through their desire to develop their potential for premier leadership, personal growth, and career success through agricultural education.
The American FFA Degree is bestowed upon a select group of students in recognition of their years of academic and professional excellence. This year 4,136 American Degrees were awarded nationwide. It is the highest honor within the FFA.
Courtney Fox, of the Arlington FFA Chapter, was awarded the American FFA Degree at the 93rd National FFA Convention and Expo on October 29th, virtually.
To be eligible, FFA members must have earned and productively invested $10,000 through a supervised agricultural experience (SAE) program in which they own their own business or hold a professional position as an employee. Recipients must also complete 50 hours of community service and demonstrate outstanding leadership abilities and civic involvement through completion of a long list of FFA and community activities.
Less than one percent of FFA members achieve the American FFA Degree, and Courtney is only Arlington's 27th member to achieve the honor since the Chapter began in 1929.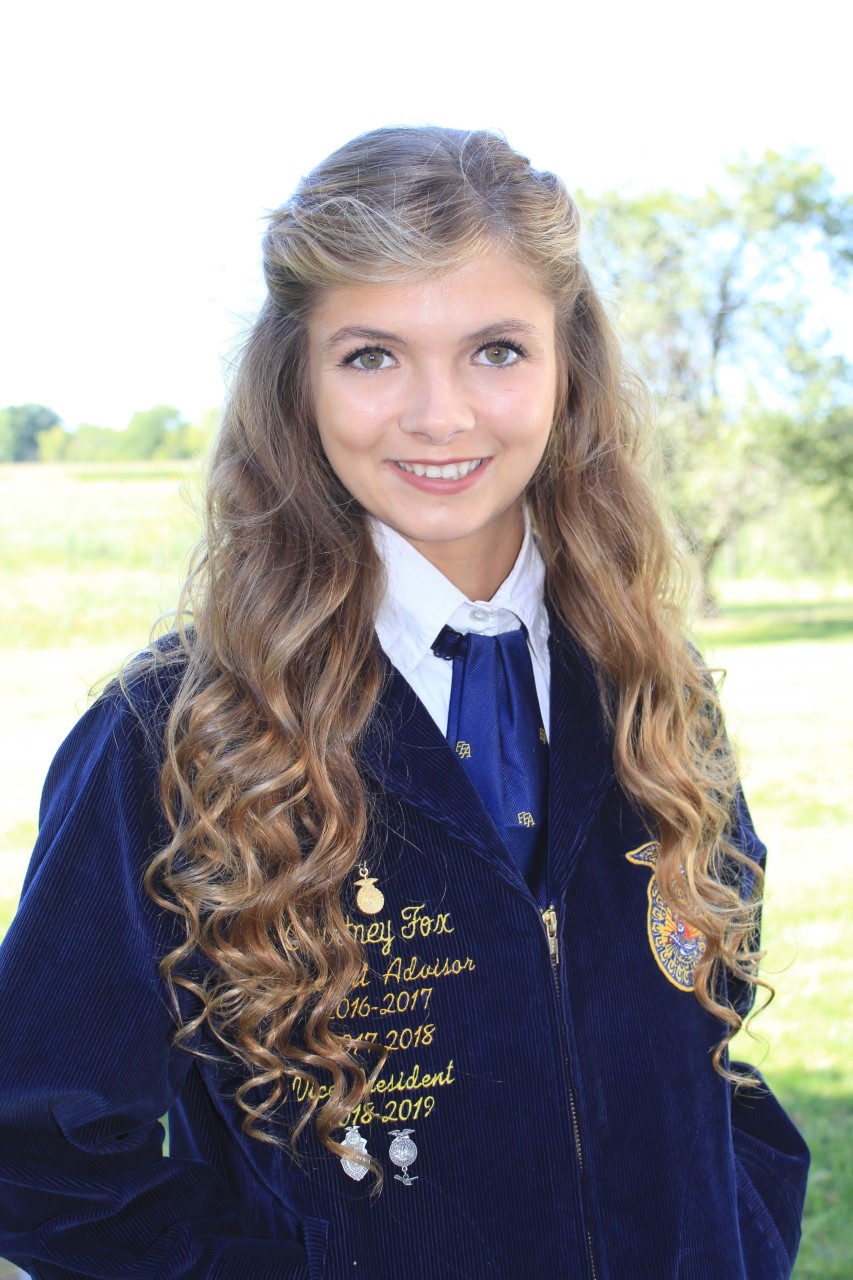 Who We Are
"Future Farmers of America" was founded back in 1928. Their mission was to prepare future generations for the challenges of feeding a growing population. They taught us that agriculture is more than planting and harvesting – it's a science, it's a business, and it's an art.
Arlington FFA continues to help the next generation rise up to meet those challenges by helping members to develop their own unique talents and explore their interest in a broad range of career pathways.
So today, we are still the Future Farmers of America. But, we are also the Future Biologists, Future Chemists, Future Veterinarians, Future Engineers, and Future Entrepreneurs of America too..
Cows Not Required: 6 Reasons Why Your Kid Should Participate in FFA
Cows are not required. As the largest youth organization in the world, the FFA has something for everyone. Students come together locally, at a state level and at National FFA Convention.
FFA is not 4-H. They are two strong, yet different, organizations. 4-H is offered through the cooperative Extension service, outside of school. FFA is part of a school's agricultural education program. In addition to serving as the FFA advisor, an agricultural education instructor teaches an array of classes based on the needs of the community, such as Animal and Plant Science, Agricultural Mechanics, Ag. Food and Natural Resources, and Agricultural Business.
FFA is inclusive. All kids – city, town, rural, farm, shy, outgoing, athletic, and musical – are encouraged to join FFA.
In the FFA, there are not cuts and there is no winning or losing record. But they are still actively a part of a team. It's competition that teaches actual career based skills, through hands on learning.
FFA students learn by doing. Supervised Agricultural Experiences provide experience in entrepreneurship, job placement, research, and home improvement.
FFA members are tomorrow's leaders. Even if you doubt your child will choose a career in agriculture, FFA teaches essential leadership skills that last a lifetime.
FFA Mission
FFA makes a positive difference in the lives of students by developing their potential for premier leadership, personal growth and career success through agricultural education.