Scholarships
The first step in financial aid is to file a FAFSA (Free Application for Federal Student Aid) as soon as possible. Whether it is believed you will qualify or not, it is important to file as colleges use this as the first step in financial aid. If you do not file, it is likely that the next step will not be reached and financial aid opportunities may be missed. With few exceptions, most students will need parent tax information to file. You will use your 2017 filed taxes. If help is needed, college financial aid offices are great resources. The FAFSA opens October 1, 2019.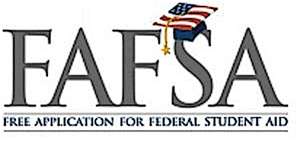 https://fafsa.ed.gov
Federal Deadline
Online applications must be submitted by midnight Central Time, June 30, 2020.
Any corrections or updates must be submitted by midnight Central Time, September 23, 2020.
College Deadline
Check with the college(s) you are interested in attending. You may also want to ask your college about its definition of an application deadline - whether it is the date the college receives your FAFSA, or the date your FAFSA is processed. Public Universities of Akron, Cincinnati, Cleveland State, Kent State, Miami of Ohio, Shawnee and Youngstown have Priority Deadlines (Must be submitted to be eligible for all possible financial aid and scholarships) of December 1. Other Priority Deadlines are Bowling Green and Ohio U -January 15, Central State -January 31, and Ohio State and Toledo, Wright State - February 1. Any question about private or 2 year college deadlines, please stop in my office.
**** Beware of Scholarship Scams!!
The Federal Trade Commission offers the following signs that a scholarship offer is NOT legitimate:
"The scholarship is guaranteed or your money back."
"You can't get this information anywhere else."
"May I have your credit card or bank account number to hold this scholarship?"
"We'll do all the work."
"The scholarship will cost you some money."
"You've been 'selected' by a national foundation to receive a scholarship."
"You're a 'finalist' in a contest you have never entered."
Reputable General Scholarship Search Engine Sites Include (Active Links):
www.scholarships.com www.chegg.com/scholarships www.scholarshippoints.com
www.fastweb.com www.cappex.com bigfuture.collegeboard.org/scholarships
nextstudent.com www.studentscholarships.org www.studentscholarshipsearch.com
NAME
AMOUNT
DUE DATE
LINK to INFORMATION

Ball Recycling Scholarship

To Be Determined

September 7, 2019

Ball Recycling Scholarship

Trott Family Scholarship (OSU)

**Must apply early decision**

5 x $30,000

September 25, 2019

Trott Family Scholarship

Horatio Alger State Scholarship

$10,000

October 25, 2019

Horatio Alger State Scholarships

Elks Most Valuable Student

Up to $50,000

November 5,2019

Elks Most Valuable Student Scholarships

National Honor Society

Varies

December 6,2020

NHS Scholarship

GE-Reagan Foundation Scholarship

$10,000 renewable

January 3, 2020

GE-Reagan Foundation Scholarship

Engineers Foundation of Ohio Scholarships

(Required ACT Math 29, English 25)

Varies

January 15, 2020

Engineers Scholarships Information

Franklin B. Walter Scholarship

Varies

January 17, 2020

Applications Distributed to

Select Qualified Students

Charles L. Warren Memorial Heritage Scholarship

$1500

January 20,2020

Warren Scholarship

Ohio Association of Administrators of State and Federal Programs

$2500 or $1000

January 31, 2020

One selected Arlington Student

Findlay Community Foundation Scholarships

Varies

February 5, 2020 by Noon

Community Foundation Scholarships

Ohio Society Daughters of the American Revolution

$1000

February 7, 2020

Ohio Society DAR Scholarship
Sparkling Ice Scholarships
$5000

February 15, 2020

Flavorful Futures Scholarship
Mercy Health St. Rita's Scholarship
$1500

February 21, 2020 by 4 pm

Mercy St Rita Scholarship

Vaughn Apprenticeships

$18-$40/ hr

Recommended Early February

Hancock Retired Teachers Association Scholarship

$1000

March 1,2020

HCRTA Scholarship

Megawatt Scholarships

$5000

March 6, 2020

Hancock County Megawatt Scholarships

Findlay Kiwanis Scholarship

$1000-$2000

March 15, 2020

Findlay Kiwanis Scholarship

Lions Club Scholarship

Varies

March 26,2010

Lions Club Scholarship

Millstream Area Credit Union Al Hines Scholarship

TBD

March 31, 2020

2020 Al Hines Scholarship

Ohio Gas Association Scholarship

$1000

March 31, 2020

Ohio Gas Association Scholarship

Old Fort Bank Scholarship

For Findlay, Heidelberg or Tiffin Universities

$1000

March 31, 2020

Old Fort Bank Scholarship
Oran L. Goodman Scholarship
$1000

March 31, 2020

Blanchard Valley Health Foundation
Varies

April 1, 2020

Blanchard Valley Health Scholarship List

Impact Credit Union
$1000

April 1, 2020

Impact Credit Union
Potts/Parcher Memorial Scholarship
$500

April 1, 2020

Potts/Parcher Memorial Scholarship
Black Swamp Bucks Unlimited
3-$500, 1-$1000

April 3, 2020

Black Swamp Bucks Unlimited Scholarships
Hancock County Farm Bureau Scholarship

Minimum $500

Maximum $2000

April 3, 2020

Hancock County Farm Bureau Scholarship
The William D. Squires Scholarship
$5000 Renewable

April 5, 2020

The William D. Squires Scholarship
Zonta Club of Findlay
Varies

April 6, 2020

8:00 am

Zonta Club of Findlay Scholarship
Blanchard Valley Hospital Auxiliary
$1000

April 15, 2020

BVHS Auxiliary Scholarship
Fort Findlay Daughters of the American Revolution
Varies

April 15, 2020

Fort Findlay DAR Scholarship
Horatio Alger Career & Technical Scholarships
Up to $2500

April 15, 2020

Alger C & T Scholarship Information

Sharon K. Jolliff Scholarship
$500

April 15, 2020

Sharon K. Jolliff Scholarship
Gerald & Eilene Inbody Scholarship
$500

April 24, 2020

Gerald & Eilene Inbody Scholarship
Arlington Teacher Association Scholarship
$500

May 1, 2020

3 pm

Arlington Teacher Association Scholarship
Military Order of the Purple Heart
$200

May 1, 2020

Military Order of the Purple Heart Scholarship
Ohio Credit Union Foundation Student Video Scholarship

1st - $5000

2nd - $2500

3rd - $1000

May 1,2020

Ohio Credit Union Foundation Student Video Scholarship